Never Shave Again. Guaranteed.
Laser hair removal is a permanent solution to unwanted hair†. We can remove hair from nearly any part of the body for less than the cost of a monthly wax. Treatments are fast and there's no recovery time (it can be done over lunch!).
About Laser Hair Removal
Laser hair removal is a popular alternative to waxing and shaving. This is largely due to the fact that laser hair removal provides permanent results† and is less expensive than maintaining a waxing and shaving routine for a lifetime. Additionally, there's no recovery time needed after a treatment—so no more doing the waxing-waddle or battling razor burn.
Our treatments are safe, and all of our procedures are performed by Authorized Candela Practitioners. We use FDA-cleared lasers that are tailored to your specific skin type & hair color.
Why Milan Laser Hair Removal?
We're the experts in laser hair removal, it's all we do. PLUS we include our Unlimited Package™ with every body area.
Milan is the largest laser hair removal company in the nation and the only one that offers the Unlimited Package: unlimited treatments for life at no additional cost. While the average person needs 7 to 10 treatments to be 95%+ hair free, with us you'll always be covered no matter how many treatments you need.
The bottom line: You'll never pay for hair removal on the same body area again.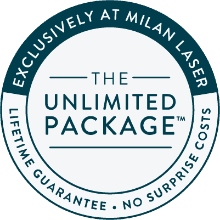 Laser Hair Removal Specials
Say goodbye to unwanted hair on your – underarms, bikini area, lip/chin, legs and back – with one of our great deals! Schedule a free consult today to take advantage of current specials.
We believe you deserve to have hair-free skin at a price you can afford. That's why in addition to offering great specials, we approve everyone for affordable payment plans through Milan Credit*.
Largest Laser Hair Removal Company in the Country
Our Rochester Location
We are the largest laser hair removal company in the country with more than 270 locations in 0 states, and we are the only company that includes the Unlimited Package™ with every purchase.
Our Rochester location is conveniently located near Marcus Rochester Theater and Target South.
For more information, call 507-540-0233 or submit your question online.